Pastor Mark is a native Eastern Oregonian, raised in La Grande. After marrying his wife Robin in 1989, they moved to Portland while attending Western Conservative Baptist Seminary (Western Seminary today). After graduation Mark was called to Felida Baptist Church where he pastored many areas including youth, worship, administration and preaching. Mark was called to First Baptist Church of La Grande in November of 2014 as Senior Pastor and is super excited to join the family here in La Grande.
God blessed Mark and Robin with two boys. Mark enjoys all of God's creation, especially the outdoors and fills his free moments with bicycling, jet skiing, motorcycling, metal working and anything else he can find to do outside!
Aaron serves the ministries at FBC full-time as Pastor of Administrator & Worship and Director of Heidi Ho Christian School. He is responsible for several areas of ministry in the church and school including: Music Team, Media, Sound, Web Site maintenance/development, Fellowship Fund, and other miscellaneous needs as they may arise.
Aaron was born and raised in the local area and has many interests including: aviation, hiking, backpacking, motorcycles, farming/ranching, and of course furthering the kingdom of God by any means God ordains! Aaron is married to his beautiful bride Kati and they have three children.
Stop in and say hello or make a suggestion anytime!
Matt Carpenter
director of Youth and family ministries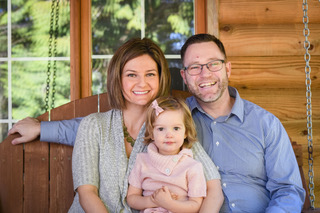 Matt was raised in La Grande, Oregon and began his ministry at FBC as an intern after college. Following his internship he moved to Seattle, serving in several churches, and completed graduate degree at Fuller Technological Seminary's Seattle campus. Over the past 20 years Matt has served different congregations as a discipleship pastor, small groups pastor, worship pastor, and congregational care pastor as well as working for a Seattle hospital as a hospice chaplain. Matt married the love of his life, Lea, and in 2016 they welcomed their daughter, Ellie, into their family by way of adoption. Matt regularly enjoys reading, a good cup of coffee, fly-fishing, bicycling, and spending time outside hiking a trail with his family and friends.